Visiting Lofoten in the Summer
The Lofoten Islands is one of the most stunning locations our planet has to offer. Both winter and summer offer unique and fascinating natural events, such as the Aurora Borealis and Midnight Sun, as well as an abundance of activities and experiences.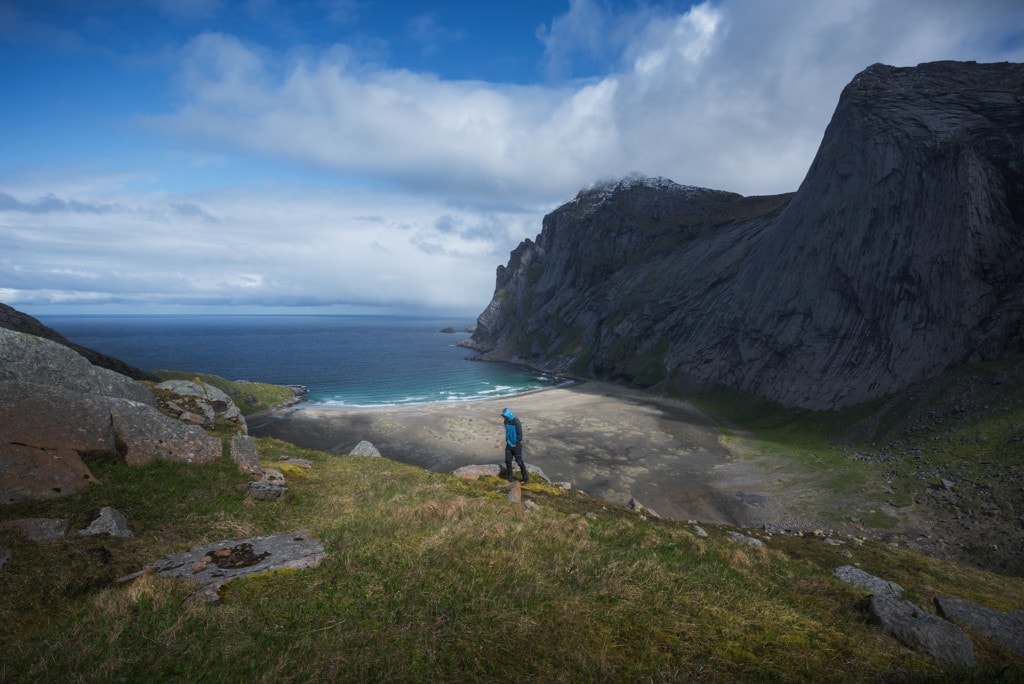 Summer is high-season for tourism and when you walk along the tropical-looking beaches with the sun still shining at 1am, it's not hard to understand why. The summer is for both exploration and relaxing, and a period where the concept of time disappears.
Weather in Summer
The weather system in the Lofoten Islands is rather unstable and it shouldn't be expected to have tropical temperatures during the summer months. In fact, the average temperatures are 10 degrees Celsius in June, 13 in July and 13 in August.
Rain can be expected during the summer months but not nearly as much as the rest of the year. Historically, July tends to be the wettest of the summer months. That being said, it's not likely that there are weeks of non-stop rain this time of year.
One of the fascinating aspects to the Lofoten weather is just how quickly it changes. There are few other places where you can experience several seasons in only one day. What might be a warm and sunny day can quickly turn into a wet and windy evening. Because of this, it's important to always keep an eye on the forecast and to bring the right type of clothing if you go hiking. More on that in a minute.
Don't let the not-too-warm temperatures and chance of precipitation discourage you from visiting the Lofoten Islands in summer, though. After all, that is part of the experience when visiting the Arctic!
Summer in Lofoten begins mid-June and lasts through August but one of the fascinating natural phenomena returns just before: the Midnight Sun.
How to Pack for a Lofoten Summer Trip
Packing for a travel to Lofoten during the summer months might not be quite the same as packing for most other vacations. Even though the temperatures can be in the 20's on a good day, the weather changes quickly and temperatures can drop in hours.
Due to this quick change in weather, it's important that you include warm clothes in your suitcase. It might not be necessary to bring the thermos underwear but a pair of thin gloves and a hat might come in handy (especially if you're traveling from a warmer climate and plan to hike up one of the many nearby mountains).
Preparation is key to enjoy your visit to the Lofoten Islands, so here's a simplified list of clothing that should be in your suitcase in addition to day-to-day clothing (such as a shorts and t-shirt):
Long-sleeve or warm base layer
Fleece or warm sweater
Waterproof jacket / down jacket
Thin gloves and a hat
Hiking boots (recommended if you plan to go for even short hikes)
Make sure to always pack an extra layer or two in your backpack if you plan to go for a hike, even if it's just a short hike up one of the 'easier' mountains. The weather might be nice and warm in the morning but you want to be prepared in case the temperatures drop, clouds/fog come in or the wind picks up. It's not pleasant to be stuck in the mountain during a storm without the proper clothing.
How to Reach the Lofoten Islands
While Norway is a small country in population, it's the country with the 8th longest coastline in the world. Combining this with roads passing through fjords and mountains makes the 1350km drive from Oslo to Lofoten take about 20.5 hours non-stop. In other words, it's not possible to do a quick visit during your stopover at Oslo Airport.
Driving North is a scenic and memorable experience in itself and is a good opportunity to see more of what Norway has to offer. If you travel by car, or rent one in Bodø, the most common way to reach the islands is with a ferry. The easiest alternative is to take the Bodø – Moskenes ferry which has several departures a day. It's also the only ferry you can bring a car on.
A slightly longer alternative (but perhaps even more scenic) is to drive the E6 all the way to Narvik and Bjerkvik then hop on the E10 and drive back to Lofoten. This is a longer drive but the views are spectacular.
Don't worry, though, driving is not your only option. There are daily flights to both Svolvær and Leknes from Oslo flying with Widerøe. The flight has a short stopover in Bodø but the total travel time shouldn't exceed more than a few hours (the flight from Bodø to Leknes is only 20 minutes!)
Flights depart from Oslo and Bodø several times a day and there normally is a few seats available for last-minute bookings. However, it is recommended to book in advance!
Renting a car in Lofoten is going to make the experience a lot better. There is public transportation but busses can be far between and rarely go to the trailheads or vistas you'd like to see. An alternative is to book an excursion that takes you to the must-see locations.
How Long Should You Visit?
The Lofoten Islands consists of a group of eight main islands that all have something unique to offer; starting with the birdwatcher's paradise in Værøy and Røst, to a hiker's dream in the jagged mountains of Moskenes and the idyllic beaches of Vestvågøy.
Seeing everything in the Lofoten Archipelago would take a lifetime but to begin with, a minimum of 4 days should give you a good taste of what the islands have to offer.
Be warned, though, the longer you stay, the more you realize you never want to leave!
What to See in Lofoten During Summer?
The summer months are packed with unforgettable moments and here at Hattvika the adventure begins already at the doorstep, either you're visiting for a relaxing getaway or active stay.
It's often said that the Lofoten Islands is the most beautiful are of Norway. When you're paddling in a kayak amongst the jugged peaks rising directly up the ocean or hiking in picture-perfect surroundings, it's not hard to understand why.
Watch the Midnight Sun
From the 27th of May until the 17th of July, the sun doesn't set below the horizon, resulting in 24 hours of sunlight. During this period, the sun stops descending just above the horizon and slowly moves horizontally along it before returning back up. This results in a magical light that lasts into the early morning hours.
This is one of the most fascinating phenomena that Lofoten has to offer and those who manage to stay awake through the night are in for a treat. Head over to one of the idyllic beaches or hike up one of the many mountains and enjoy the picturesque midnight sun.
Read more about the midnight sun here
Visit a Beach
Going to the beach might not be what you connect with visiting the Lofoten Islands, or Arctic regions for that matter, but these beaches are amongst the most scenic on our planet. The temperatures might not be as welcoming as in Bali but the crystal-clear waters and fine-sand beaches are worth a visit.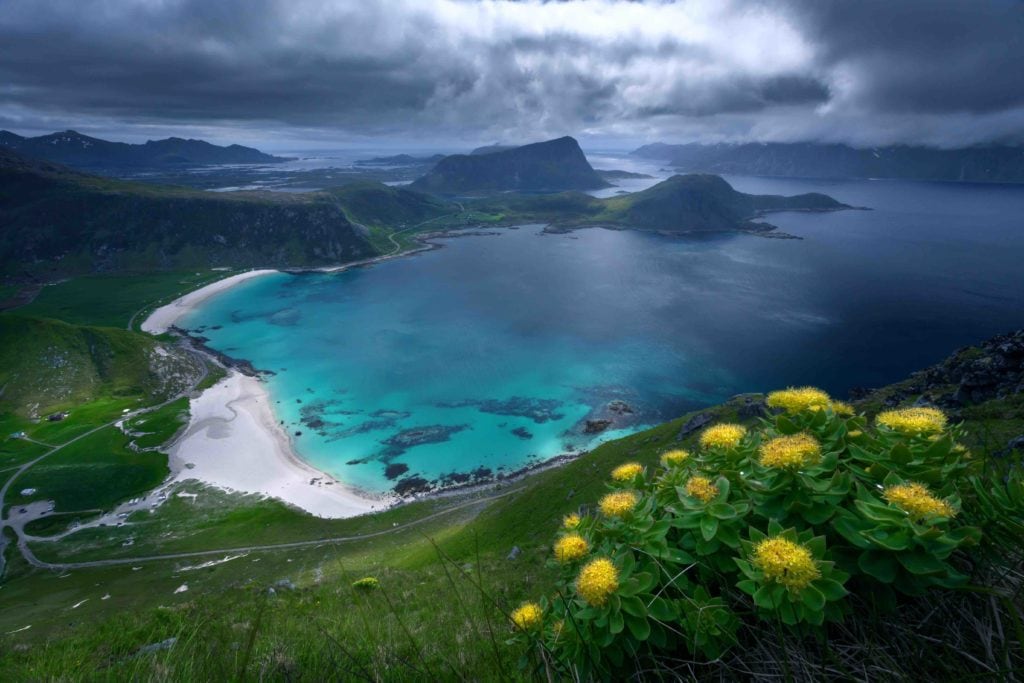 What makes these beaches even more unique is the fact that their surrounded by impressive peaks in all directions.
Pack a picnic bag and head out to Unstad, Uttakleiv, Haukland, Skagsanden or Ramberg beach for a nice lunch. During a nice and sunny day, you can see locals sunbathing and swimming and a handful of surfers enjoying the waves.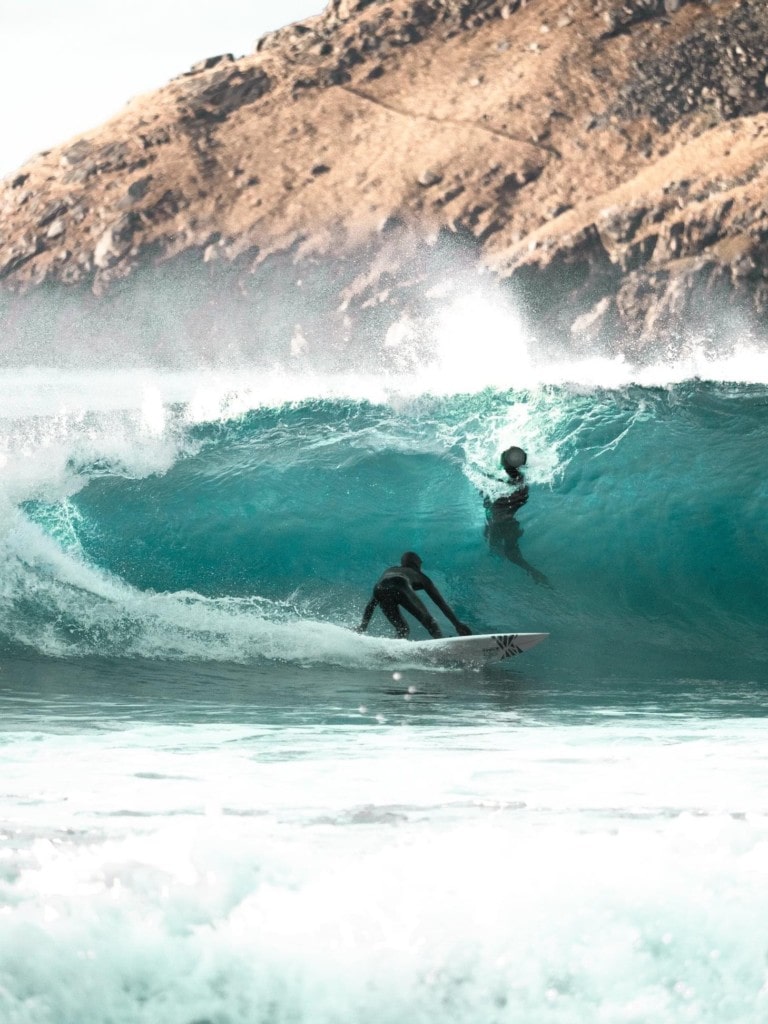 Make sure to visit one of these beaches at night too. Walking along the beach in the middle of night is a great experience when the midnight sun is out.
Go for a Hike
Summer in Lofoten is the perfect time for hikers and nature lovers to visit. Most of the snow has melted from the higher mountains by now so there are endless opportunities. There's a good variety in difficulties and the Lofoten Islands have trails that fits everyone: from the well-maintained and flat gravel trail in Kyllingdalen in Ballstad, to the steep but maintained stairs up Reinebringen or wild and exposed summit of Skottinden.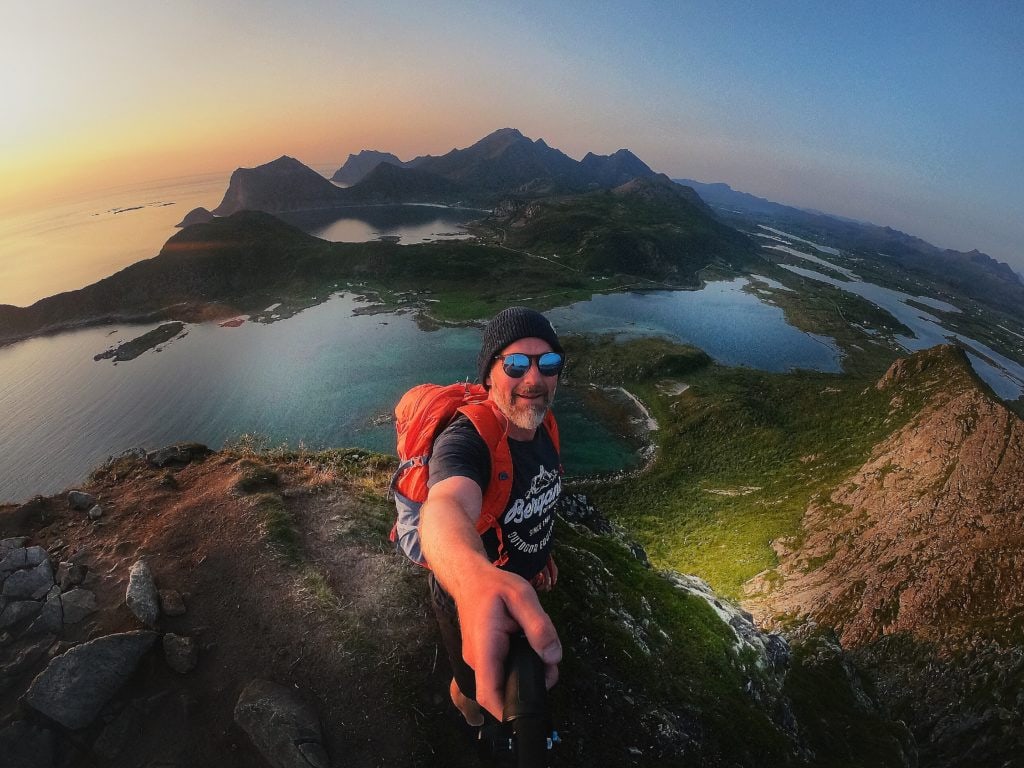 Most the mountain hikes are doable as day-hikes and many have a breathtaking view after only a short (but steep) hike. Just remember to bring an extra layer or two in case the weather changes while you're out.
Explore Lofoten by Trail Running
What better place is there for a good outdoor workout than the Lofoten Islands? Imagine running along a ridge with a view of peaks as far as you can see. That's what trail running in Lofoten is like.
The trails are varied, from easy runs to a bit more technical, steep and challenging.
Read more about Trail Running in Lofoten here
Rent a Seakayak
Exploring the beautiful archipelago from a sea kayak is one of the most fantastic ways to get to know Lofoten. Paddle along the quiet and peaceful fjords and soak in the feeling of being surrounded by jagged mountains.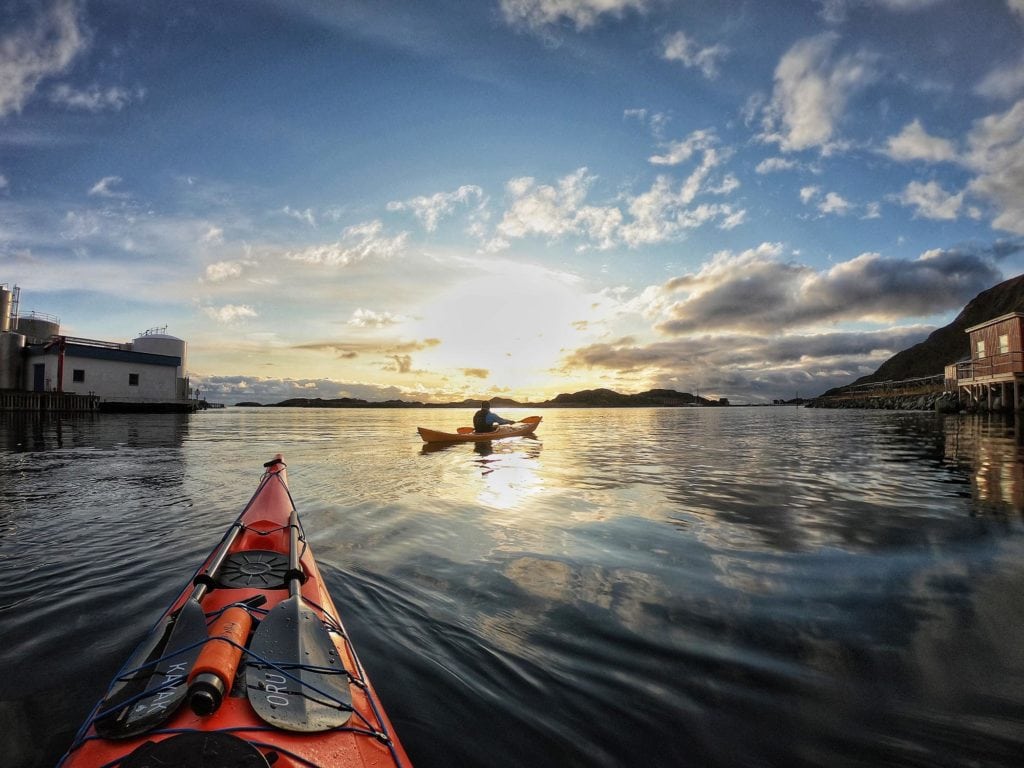 Read more about Sea kayaking in Lofoten here
Go Mountain Biking
Those who enjoy the thrill and adrenaline of hitting the slopes will love mountain biking in the Lofoten Islands. The RAW and untouched trails with panoramic views give you a world-class biking experience.
Read more about Mountain Biking in Lofoten here
Attend a Photo Tour
Are you a photo enthusiast and want to learn how to become a better photographer? Then the Lofoten Islands is one of the absolute best places to learn. The landscapes here are loved by photographers across the globe and once you start pointing your camera towards the mountains, you quickly realize why.
Join a photo tour with a local photographer and get help to capture the best possible images from your visit. Make sure that you come back home with images you're proud of and the skillset needed to capture just as good photos on your next adventure.
Read more about Photo Tours in Lofoten here
Go on a Fishing Trip
Fishing is one of the most important parts of the Lofoten history and fishermen from all of Norway still come here during the rich seasonal Lofotfiske.
The fishing trips offered give you a unique opportunity to join professional fishermen out on the ocean. Your guides know these areas in and out and will take you to the very best places for fishing.
Read more about Fishing Trips in Lofoten here
End the Day in a Sauna
Either your legs are sore from hiking or your tired from a long day exploring the archipelago, the sauna awaits just outside your cabin door. What better way to end the day than relaxing in a sauna with a view (and jumping into the ocean for those who dare!)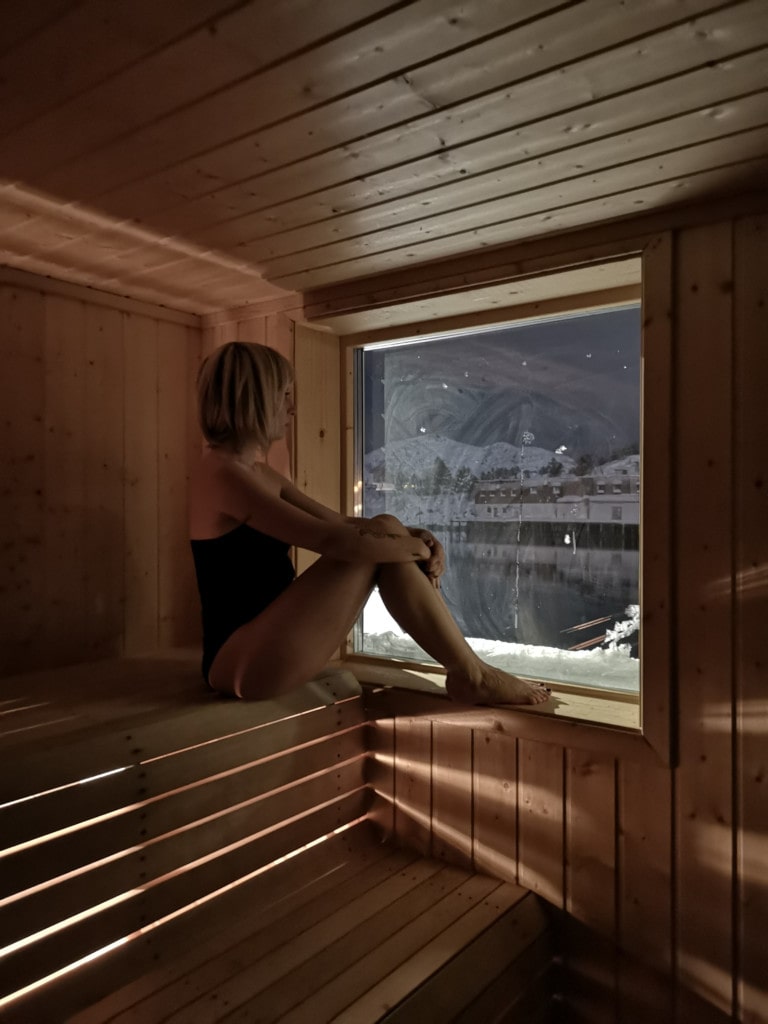 Our harbor sauna is comfortable and relaxing, with a view towards the ocean and distant mountains. End your day with a little extra comfort.
Read more about our Sauna here
Conclusion
Visiting the Lofoten Islands in summer is an experience you'll never forget. This little piece of paradise is extra welcoming during these months and, despite the quickly changing weather, it's a bright time where you can enjoy sunlight even at night.
The summer months is the perfect time for first-time visitors to get a taste of what the Lofoten Islands have to offer. Here you can enjoy a walk at the beach, go for a hike or run in incredible surroundings, go paddling in picture-perfect fjords or hop on a fishing boat and try your luck with the Lofoten fishing.
We wish you welcome with open arms at our cozy and luxury accommodations in traditional fishermen cabins. Based in the scenic fishing village of Ballstad, this is the perfect base for your exploration and you'll be located in the midst of all the most scenic areas in Lofoten. Adventures awaits outside the cabin door!