Hattvika Lodge, how to get there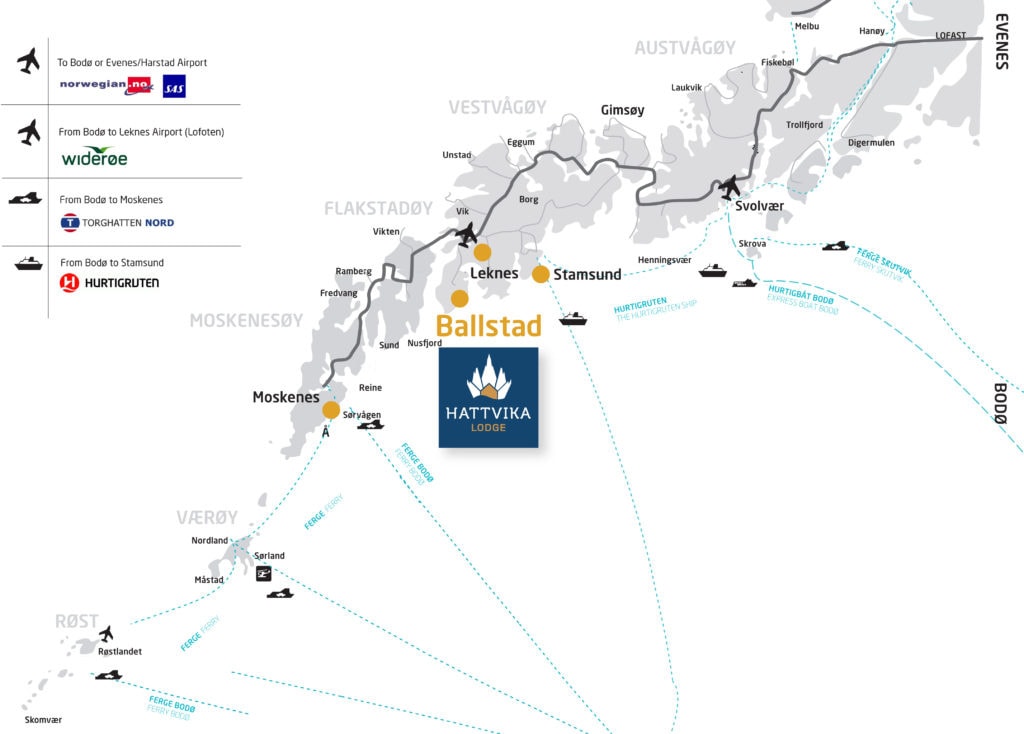 If you're going by plane from Trondheim (TRD), Bergen (BGO) or Oslo (OSL), you will have to go via Bodø (BOO). The absolute fastest and most practical way to get to Hattvika, is to travle by plane to the closest airport, Leknes (LKN), and then drive for 15 minutes. Widerøe offers several flights daily between Bodø and Leknes. It's also possible to take the plane to Svolvær (SVJ). Then you will have to drive for 1 hour and 15 minutes to get there. Also, you can fly to Evenes (EVE), the airport near by Harstad and Narvik. This give you a drive of 3 hours and 30 minutes. This might be the cheapest way to travle by plane to Lofoten, and it's an oppertunity to experience some of Often, Lofoten and Vesteralen by car.
You could also reach Lofoten by ferry from Bodø. This ferry takes about 3 hours, and arrives at Moskenes, 1-hour drive from Hattvika. Another ferry goes from Bodø to Svolvær. It takes about the same time and give you a drive of 1 hour and 15 minutes. It not possible to drive all the way from Bodø to Lofoten, you will have to take a ferry at some point. An alternative here, will be to drive all the way, and take the ferry from Bogenes to Lødningen. The ferry takes an hour, and the trip in total will take around 7 hours.
Another alternative is Hurtigruten from Bodø to Stamsund. Stamsund is 25 minutes by car from Hattvika. Its possible to take Hurtigruten from Harstad to Svolvær or Stamsund. This is a day's journey, but a beautiful experience.
«Naturelly Michaela» writes about the travel to Lofoten and her stay at Hattvika Lodge, read for more inspiration.
For adventures up north – come join us for an active stay as Kristoffer Vandbakk from www.kajakknord.no does annually for expeditions and kayak tours.