Visiting Lofoten in the Winter
There's little doubt that the Lofoten Islands are amongst the wonders of the world. It's commonly said that it's the most scenic region in Norway and it's not hard to understand why.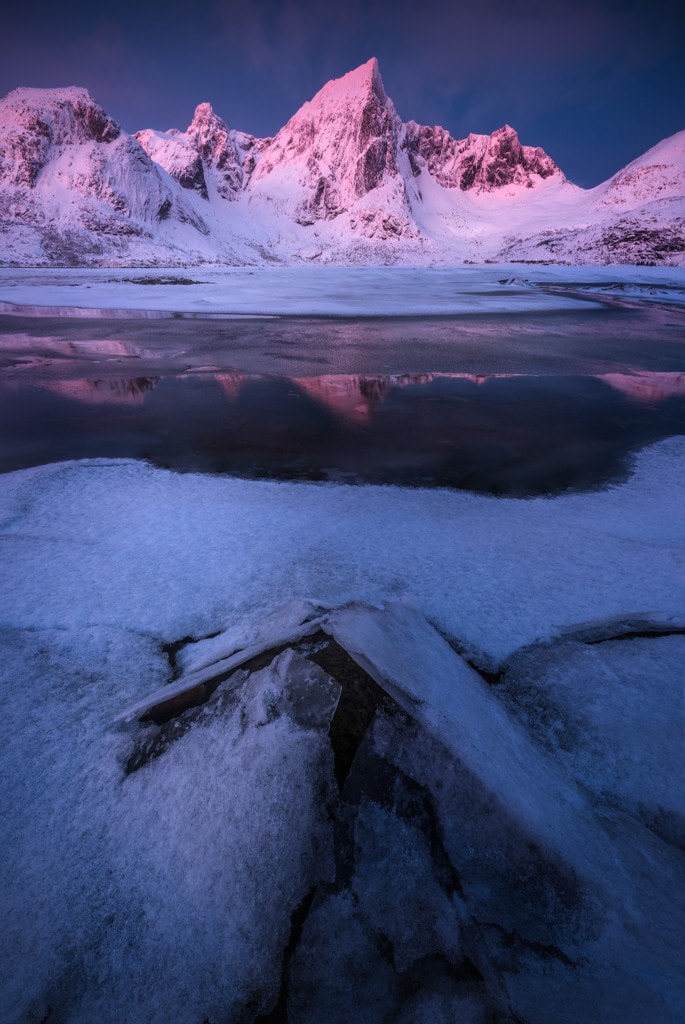 Winter can be harsh and long but the snow does a good job in transforming the landscape into a winter wonderland. Lofoten is full of surprises and during night you might even get a good look at the Northern Lights elegantly dancing on the night sky.
Visiting Lofoten in winter does require some more planning than summer does. Keep reading and you'll learn more about what to expect during the winter months as well as how you can plan for the most memorable stay.
Weather in Winter
The weather system in Lofoten is known to be quite unstable and this is particularly true during the winter months. What might come as a surprise, however, is the rather high average temperature (considering that Lofoten is situated above the Arctic Circle). From December through March, the average temperature is 0 degrees Celsius.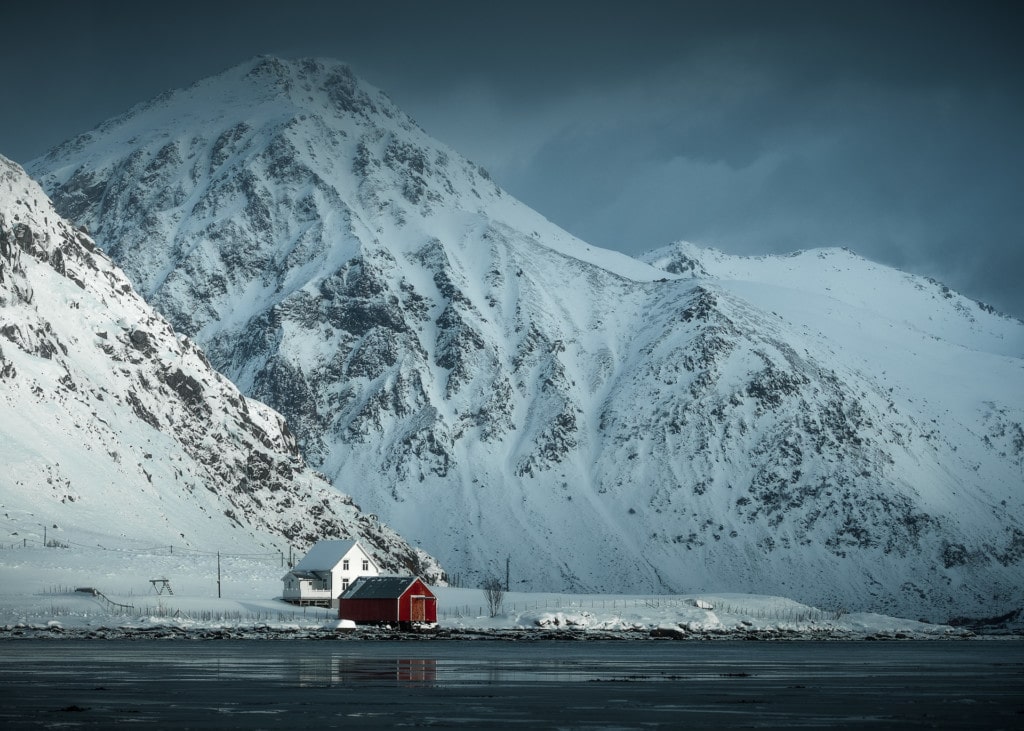 Temperatures can be expected to drop to a few degrees negative and it's often this balance between one degree plus or minus that determines if it snows or rains. Because there will be snow or rain!
Don't let the mild temperatures fool you though: strong winds are quite normal and when you combine that with the subzero temperature, it feels a lot colder than what the forecast predicts.
It's this quickly changing weather system that makes Lofoten such a unique destination to visit in the winter months and has made it the go-to season for photographers.
December is darkest month of the year and marks the beginning of the Polar Nights, a period where the sun doesn't rise above the horizon. The Polar Nights lasts from the 9th of December until January 4th.
How to Pack for a Lofoten Winter Trip
Just because the temperatures aren't freezing (compared to other areas of Norway), it doesn't mean that the winter months aren't cold. Strong winds combined with temperatures around zero degrees Celsius can feel colder than -20 and no wind. That means packing the correct clothing for a Lofoten winter trip is essential.
It's especially important to pack warm outdoor clothing if you plan to go hiking or chase the Northern Lights at night. Here are a few of the essentials that should be in your suitcase:
Long johns / thermal underwear
Fleece or warm sweater
Waterproof downjacket
Hat and thick gloves
Warm shoes or boots
When visiting from a warmer climate it will also be nice to have handwarmers available. This slip inside your gloves and keep your hands warm even in freezing conditions.
Remember that the weather changes quickly. Make sure to always have enough layers in your backpack; a nice sunny day can turn into a snowstorm in a short time.
How to Reach the Lofoten Islands in Winter
Norway is a small country in population but it has the 8th longest coastline in the world. The 1350km drive from Oslo to Lofoten take about 20.5 hours non-stop in ideal conditions but can take twice as long in the winter months. There are long stretches of roads that are exposed for weather and, if you're unlucky, you might be stuck on the wrong side of the mountain for days.
The drive North is picturesque but one that's better experienced during the summer months (you won't see much in winter due to the short days anyway).
If you choose to travel by car, or rent one in Bodø, the most common way to reach the islands is with a ferry. The easiest alternative is to take the Bodø – Moskenes ferry which has several departures a day. It's also the only ferry you can bring a car on. Keep an eye on the forecast as the ferry may stop going if the conditions are bad.
The easier alternative is to hop on a flight from Oslo or Bodø and fly into either Svolvær or Leknes. There are several daily departures using Widerøe and the travel time isn't too long (the flight from Bodø to Leknes is only 20 minutes!)
Both airports in Lofoten have good rental car possibilities. Public transportation is available but the departures are far between and few, if any, take you to the destinations you're most likely interested in seeing. Therefore, renting a car is highly recommended.
Keep in mind that the roads in Lofoten are narrow and can be challenging to drive on during the winter months. Storms limit your visibility and might even force you to park the car and wait. Pay attention to forecasts and public announcements before heading out on the roads. Having some experience driving on snow or ice will be beneficial.
The at times difficult driving conditions also mean you should expect drives to take longer than planned. Always leave room for the unknown!
How Long Should You Visit Lofoten in Winter?
The Lofoten Islands consists of a group of eight main islands that all have something unique to offer; starting with the birdwatcher's paradise in Værøy and Røst, to a hiker's dream in the jagged mountains of Moskenes and the idyllic beaches of Vestvågøy.
Seeing everything in the Lofoten Archipelago would take a lifetime but to begin with, a minimum of 4 days should give you a good taste of what the islands have to offer. The longer you stay, the higher the possibilities of seeing the Northern Lights is too.
What to See in Lofoten During Winter?
The winter months are packed with unforgettable moments and here at Hattvika the adventure begins already at the doorstep, either you're visiting for a relaxing getaway or active stay.
It's often said that the Lofoten Islands is the most beautiful are of Norway. When you're paddling in a kayak amongst the jugged peaks, snowshoeing in picture-perfect surroundings or skiing down the face of steep mountain, it's not hard to understand why.
Watch the Northern Lights
The Northern Lights are one of the main attractions the Lofoten Islands has to offer and it's fair to say they're among the most spectacular natural phenomena our planet has to offer.
Lofoten is the perfect place to witness the Aurora Borealis and it's safe to say that the already amazing becomes even more spectacular when you're surrounded by jagged peaks or pristine arctic beaches.
When the night sky is clear you'll want to grab some warm clothes and head out chasing the lights. It's also possible to book a northern lights tour for an even better chance to see (and photograph!) the Northern Lights.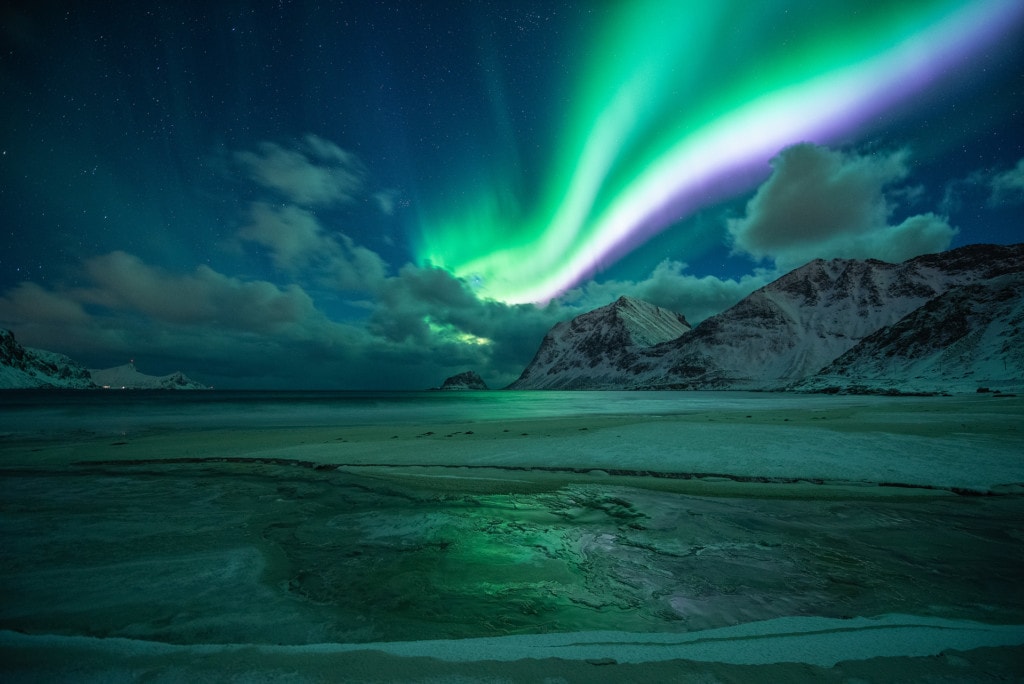 Read more about the Northern Lights here
Experience the Polar Night
December is darkest month of the year and marks the beginning of the Polar Nights, a period where the sun doesn't rise above the horizon. The Polar Nights lasts from the 9th of December until January 4th.
The sun might not rise but the cold Arctic glow is incredible in itself. These days have a magical blue hour that lasts for hours upon hours. Even better, the dark days means more hours with a possibility to see the Northern Lights.
Visit a Beach
Going to the beach might not be what you typically do during the winter months but the beaches in Lofoten are magical in the winter months. It might not be tempting to jump in for a swim but taking a stroll along the azur blue waters is a good way to spend the day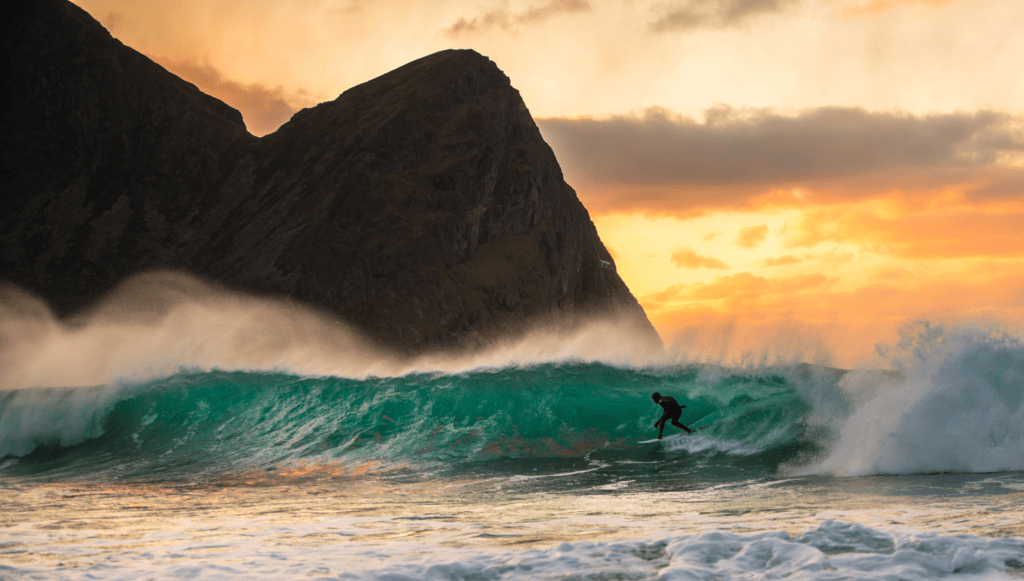 Some of the most picturesque beaches include Unstad, Uttakleiv, Haukland, Skagsanden and Ramberg Beach. On a sunny day you'll see just how pristine the landscape is; a true winter wonderland.
Go Hiking or Snowshoeing
Summer might be the go-to season for most hikers in Lofoten but there's an abundance of possibilities in the winter months too. While you want to stay clear of certain mountains during certain times, there are many great views and picturesque hikes to see.
The hikes come in all difficulties so there's options for everyone; either you want to go for an easy hike to a hidden beach, hike up a mountain or go for a steep technical adventure.
During periods when the landscape is covered in snow, rent a pair of snowshoes and head up one of the nearby mountains. You'll quickly get used to walking on them and you're going to love not sinking through the deep snow for each and every step.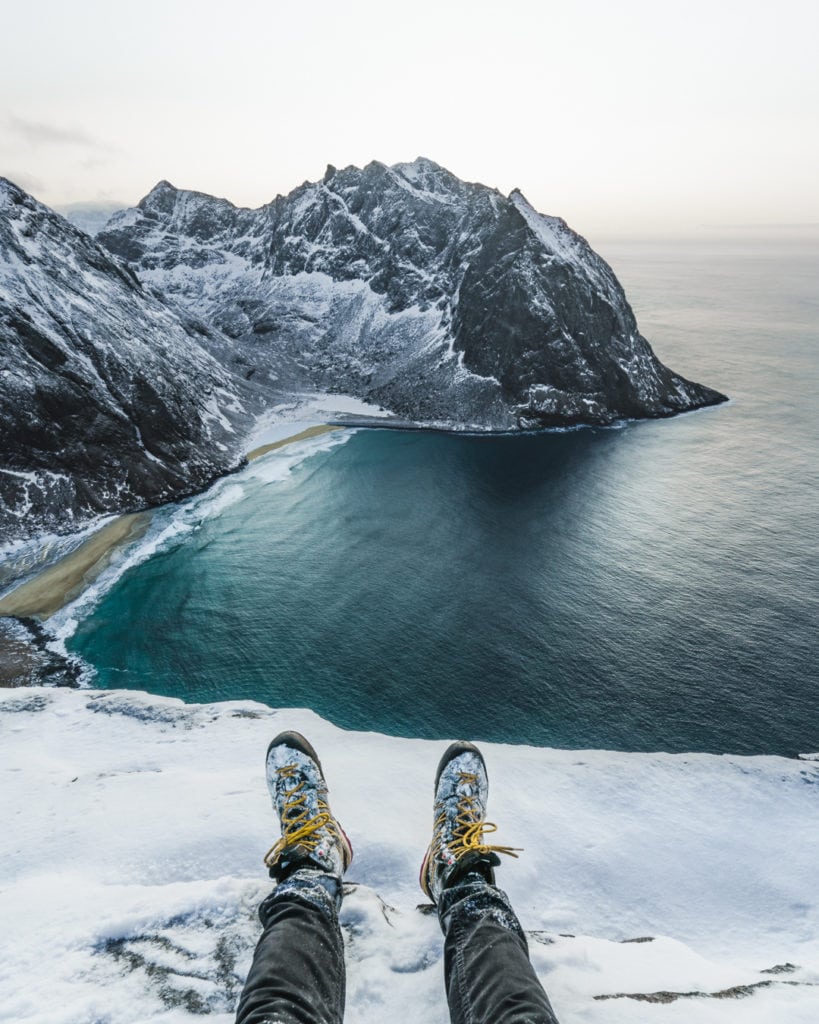 Booking a trip with a professional mountain guide is highly recommended if you want to explore areas that few others have been.
Go Splitboarding or Ski Mountaineering
It used to be the Lofoten fishery that attracted people to this remote corner of earth but today the islands have become a playground for extreme sports enthusiasts. have left their mark.
Ski mountaineering in this environment provides the best mix of mountain and sea that will affect you for a long, long time. It's no wonder why this is considered paradise for skiers.
Read more about Ski Mountaineering in Lofoten here
Rent a Seakayak
Exploring the beautiful archipelago from a kayak is a fantastic way to get to know Lofoten. Paddle along the quiet and peaceful fjords and soak in the feeling of being surrounded by jagged mountains.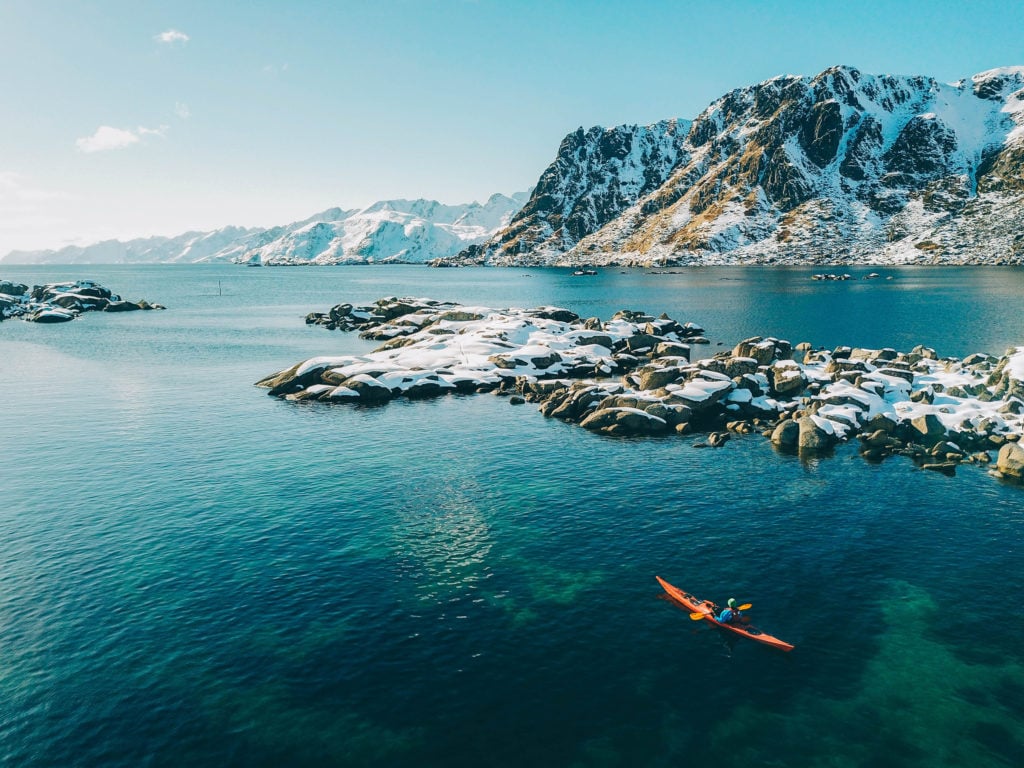 On a nice and calm winter day, you're guaranteed to make memories that last for a lifetime.
Read more about Sea kayaking in Lofoten here
Attend a Photo Tour
Winter is the most popular season in Lofoten amongst photographers as the weather changes quickly, the light is dramatic and the Northern Lights dance beautifully at night.
Even though the landscape is 'picture-perfect', capturing the perfect image might not always be as straightforward as we want it to. Joining a tour with a local photographer makes sure that you return home with the best possible images and some new knowledge on how to capture photographs that you're proud of!
Read more about Photo Tours in Lofoten here
Go on a Fishing Trip
Winter is high season for fishing and fishermen from all over Norway come to the Lofoten Islands to try their luck. With the Arctic cod spawning in the Lofoten area, this easily one of the world's best locations for fishing.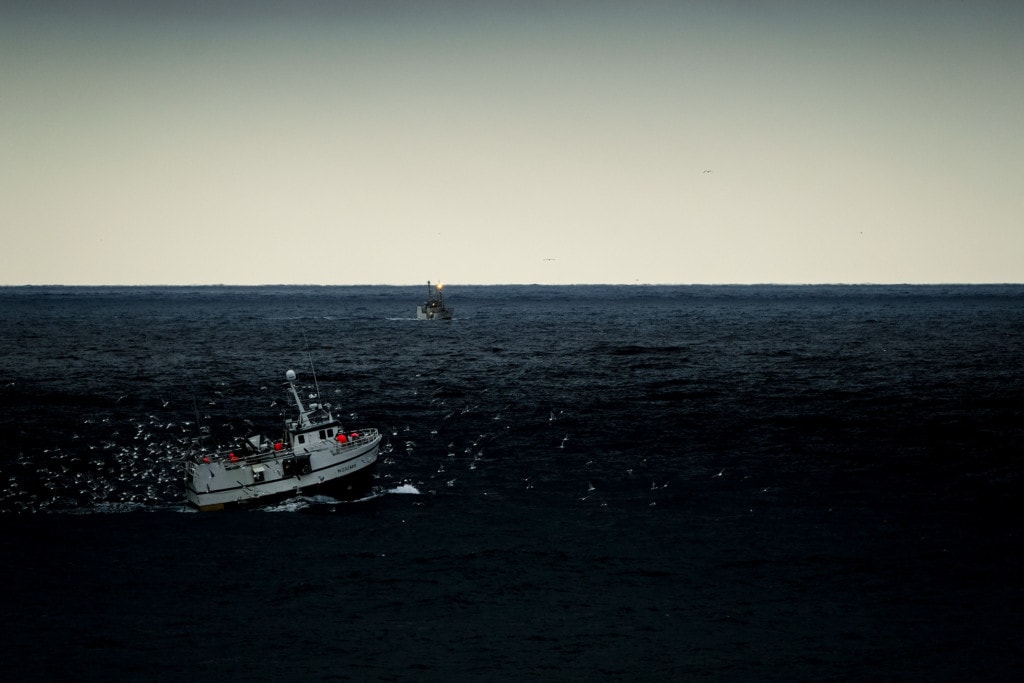 Best of all? It's perfectly possible for you to join a fishing boat to try your own luck.
The fishing trips give you a unique opportunity to join professional fishermen out on the ocean. Your guides know these areas in and out and will take you to the very best places for where you're most likely to get a good catch.
Read more about Fishing Trips in Lofoten here
End the Day in a Sauna
No matter how you've spent a winter day in Lofoten, it's quite likely that you've been a little cold at some point and perhaps even tired after a hike or long day of exploring. Luckily for you, our sauna awaits just outside your cabin door. What better way to end the day than relaxing in a sauna with a view (and jumping into the ocean for those who dare!)
Our harbor sauna is comfortable and relaxing, with a view towards the ocean and distant mountains. If you're lucky, you might even get a glimpse of the Northern Lights while you're in it.
Read more about our Sauna here
Conclusion
Winter in Lofoten is long, dark and rough but at the same time an incredible period to explore the archipelago. Both the Polar Night and Aurora Borealis are well worth the visit and will leave you with memories for a lifetime.
The temperature is not nearly as cold as other places in Norway but the high winds makes it feel colder than what it is. Therefore, it's important to remember to bring enough warm clothes; especially if you're planning to go out chasing the lights at night.
We wish you welcome with open arms at our cozy accommodations in traditional fishermen cabins. Based in the scenic fishing village of Ballstad, this is the perfect base for your exploration and you'll be located in the midst of all the most scenic areas in Lofoten. Adventures awaits outside the cabin door!