Visit Lofoten Islands – It's Vacation Time!
A truly special vacation awaits… Explore the Lofoten Islands on you next holiday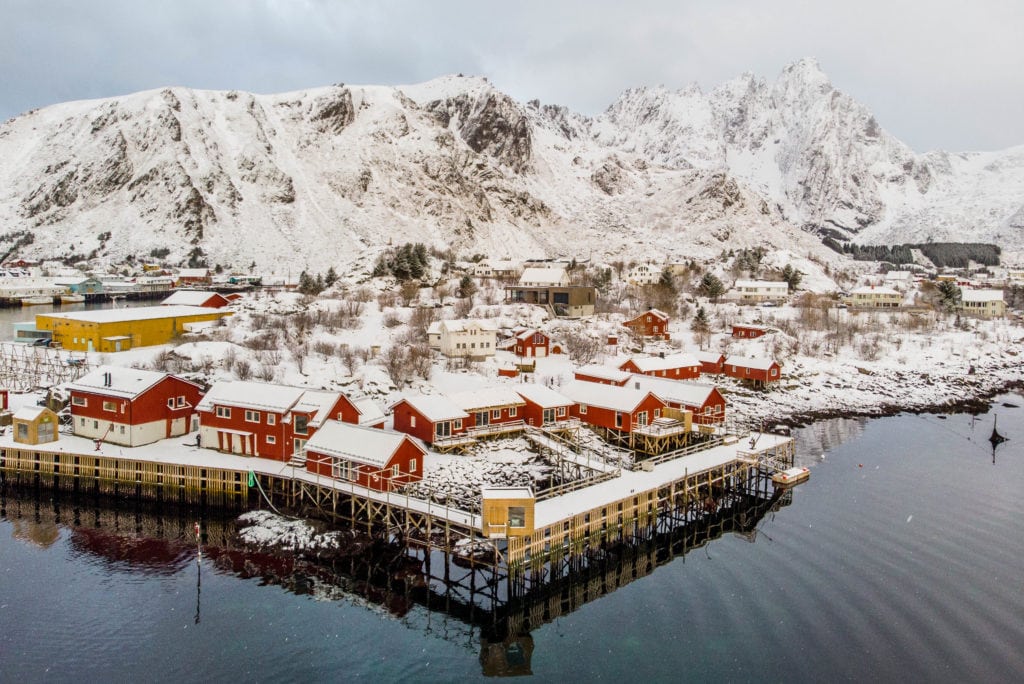 Northern Norway is world renowned for its spectacular natural beauty and tranquillity. With its traditional Fisherman's cottages nestled between the ocean and stunning mountains a visit to Lofoten is one you will not forget.
«Conquer one of Lofoten's easily accessible mountains to gain a spectacular view of the Fjords»
Hattvika Lodge is situated at the heart of the Lofoten offering a perfect base to explore these well connected islands. Our traditional style Northern Norwegian House and newly renovated Fisherman's cottages provide a perfect balance between the old and new, featuring traditional exteriors and modern comfortable interiors. All of our accommodation at Hattvika comes with exceptional views of both the ocean and mountains and staying with us places you squarely at the center of all the activities and amenities the Lofoten Islands have to offer.
For further information and booking please see www.hattvikalodge.no
Something for everyone
Whether you are searching for epic excitement filled adventures for your next holiday or a deeply relaxing vacation to unwind, the Lofoten Islands have something to offer for everyone. From Mountain Biking, diving and boating to hiking, fishing, surfing and SUPing staying at Hattvika Lodge opens the doors to a huge assortment of fun activities on the land and sea. Whatever you prefer to do, at Hattvika Lodge you will always finish your day off by returning to beautifully designed and furnished accommodation.
Hiking in Lofoten can be found for all ages and abilities. At Hattvika we are pleased to offer certified in house guides who can cater a personalized trip to suit your needs. Within depth local knowledge of the flora, fauna and history of the Islands you will enjoy getting to know this paradise a little more deeply. Hattvika Lodge also feature several Stand Up Paddle Boards (SUP's) for rental, as well as seakayaks.
«The mountains look special and different each day as the weather changes, it is quickly becoming a mecca for photographers.»
Read story here: http://www.nordnorge.com/en/boat-and-water/?News=573.
Protected by the ocean by the harbour wall, you can enter the water
directly in front of your home and enjoy a calming paddle in the fjord. A lovely way to view the village from the ocean and take in the awe inspiring granite mountains towering above you. You will be spoilt for choice for water based activities but in addition to the harbours Lofoten offer many spectacular beaches within a close distance – here the crystal clear waters and dazzling white sand will demonstrate the huge effort of Norway to protect their unique natural environment.
«The beaches of Lofoten are completely unspoilt and are a great start point for exploring on land or snorkelling in the ocean.»
For further information and booking please see www.hattvikalodge.no
Active vacation with lots to do
If you prefer to expel a little more energy on your holiday Lofoten is a cyclists heaven. Whether you prefer road trips to move from place to place or mountain biking on remote technical single track Lofoten has all this and everything in between to offer.
At Hattvika we are passionate about Mountain Biking. With certified guides and knowledge of all the best tracks you had better be prepared to take in some of the best biking the world has to offer. There are rental opportunities nearby if you don't have your own equipment.
Regardless of season looking down on the ocean after a powerful climb sets you up for some seriously good-feeling downhill.
Read more (unfortunately only in Norwegegian here: http://www.an.no/kultur/med-sykkel-pa-lofotens-tak/s/1-33-7544565
Experience the midnight sun
A fascinating aspect to Northern Norway is its location above the Arctic Circle meaning for a couple of months over Summer each year the sun does not set at all. Hattvika is the perfect spot to experience the majestic midnight sun with late opening restaurants and activities available all day and late into the evening. You will be amazed how much you can fit in to one vacation when the sun never sets!
«Dance among the rocks and flowers on your bike going from mountain to ocean in one superb run.»
Many people tick the midnight sun from their 'bucket list' by completing a midnight hike and still being able to watch the sun dazzle above the azure ocean.
Dream vacation
At Hattvika we are here to deliver your dream holiday, tailored to your needs whether you strive for adrenaline or deep relaxation. Our top of the range lodgings including outdoor wood fired hot tub and traditional sauna will finish off any day perfectly. If we cannot guide your trip ourselves we can organise stress free outings for fishing, kayaking, diving and boat safaris with excellent local operators. Let us show you the friendly nature of the people of Lofoten. A visit here is one to take with you forever.
«Don't forget your sunglasses! In Lofoten, 'The Land of The Midnight Sun' you'll be needing them 24 hours a day…»
A great story about the Lofoten Islands possible outcomes regarding exploring and adventures can be read at www.iexplore.com here http://www.iexplore.com/experiences/beaches/Norway-Lofoten-Islands-Adventure
Visit Lofoten at Hattvika! Come join us for an active holiday. A vacation you will never forget! Further information and booking at www.hattvikalodge.no
#Lofoten #Hattvika #SeaKayak #Fishing #Summer #Vacation