ENDLESS SUMMITS TRAILRUNNING
An epic adventure to Lofoten Norway, one of the craziest corners of the world for trail running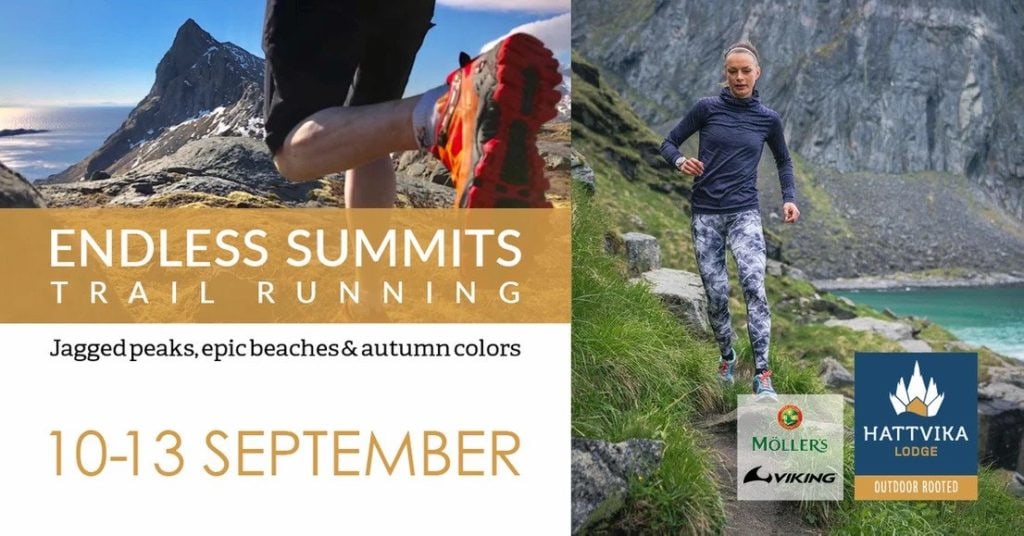 The Lofoten archipelago is predestined for hiking and trail running! When the autumn colors are calling for action, we're ready to explore magic trails around this beautiful archipelago. Are you ready for a 3-day active event here?
Explore the beautiful landscapes of Lofoten, fantastic ridges, rewarding peaks, breathtakingly white beaches and azure fjords, and of course, traditional fisherman cottages. The islands have been inhabited since the Viking age, and are abound in culture and history. The trails are varied, from easy runs to a bit more
technical, steep and challenging. We will be staying in one of the traditional fisherman cottages at Hattvika Lodge a cosy place to stay as it provides the complete authentic Lofoten experience with excellent food and private location.
ITINERARY
DAY 1 | LEKNES, SEPTEMBER 10
The team from Hattvika Lodge will pick you up at Leknes (LKN) airport. We will get into our vehicle and head for the authentic fisherman village Ballstad where we will be lodging at Hattvika Lodge, our base camp for the event. Ballstad is situated on one of the central Lofoten islands, which is perfect for exploring the areas of Vestvågøy and Flakstadøy. We will have some time to explore the area and have an informational and safety briefing before an evening trail running and dinner.
Arrival day, and airport pick-up
Check-in and briefing
Short run to shake our legs
Welcome dinner
DAY 2 AND 3 | SEPTEMBER 11 & 12
Every morning we will have a substantial breakfast at Langbua, our private restaurant. Depending on the plan for the day, we will prepare our packed lunch (self-service at breakfast) or eat on the way. We will plan our daily runs as our guide, Roland Hummer has scheduled the previous evening. Depending on the routes we will try to catch up with the sunrise and or the midnight sun.
Northern Norway is famous for its rapidly changing and unpredictable weather, so be prepared. If there is a day with miserable weather, we will try to cover some ground (on wheels) to show you the beauty of the archipelago.
Most of the days we will have routes with at least 600 meters of elevation gain. The peaks in Lofoten can be short, steep and technical. We will run two courses a day, summing up an average of 15 km per day.
DAY 4 | SEPTEMBER 13
After breakfast is time to go out for a last mesmerizing run before
we pack our memories. We'll explore the local surroundings of
Ballstad and enter the basecamp for shower and packing. The trip will officially end at 4 pm with transport to the airport.
WHO CAN JOIN?
Anyone with some experience in trail running and outdoor navigation can join. The pace is unimportant on our adventures, but for several days we will be out for 4 to 6 hours and switch between running and hiking. Trail running can build strength and improve form. As training miles accumulate it's tempting to start logging miles off-road and there are many benefits to be gained merely from changing surfaces. Trail running will strengthen muscles in the foot, ankle and pelvis, otherwise not developed while running on urban terrain.
This strengthening increases overall muscle recruitment, creating more power and resulting in higher running efficiency.
NOT INCLUDED: Transport to Leknes (e.g. flights). Insurance. All participants are required to have their insurance appropriate for
outdoor sports; such as health, accident, mountain rescue, repatriation, cancellation, personal liability, etc. Trail snack to eat on the go – dried fruit, nuts or energy bars to last you throughout the entire runs (further info in the packing list). Alcoholic and non-alcoholic beverages.
Expenses for extra activities, such as; kayak, SUP massages, sauna, hot tub. Any accommodations for additional days in Lofoten.
ACCOMMODATION: Twin shared rooms (limited single occupancy available for an extra price).
PAYMENT: 30% deposit due to secure your reservation, remaining 70% due 30 days before the start of the expedition. Excl. VAT, where applicable.
We reserve the right to change the itinerary without previous notice due to weather conditions and unforeseeable circumstances. This tour is governed by the Terms and Conditions.