Capture the unique lights in the Lofoten islands
Outdoor activities are printed within our dna – Hattvika Lodge OUTDOOR ROOTED!
Exclusive aurora hunt or landscape photography by our local photo guide. The Lofoten islands have for decades been frequently visited by adventurers and photographers. Since the last 15 years more and more dedicated photographers have the world most beautiful archipelago on their bucket list because of the amazing landscape and lights.
In collaboration with Stine Bakke, we now can offer a local guide and dedicated photographer for guided photo tours.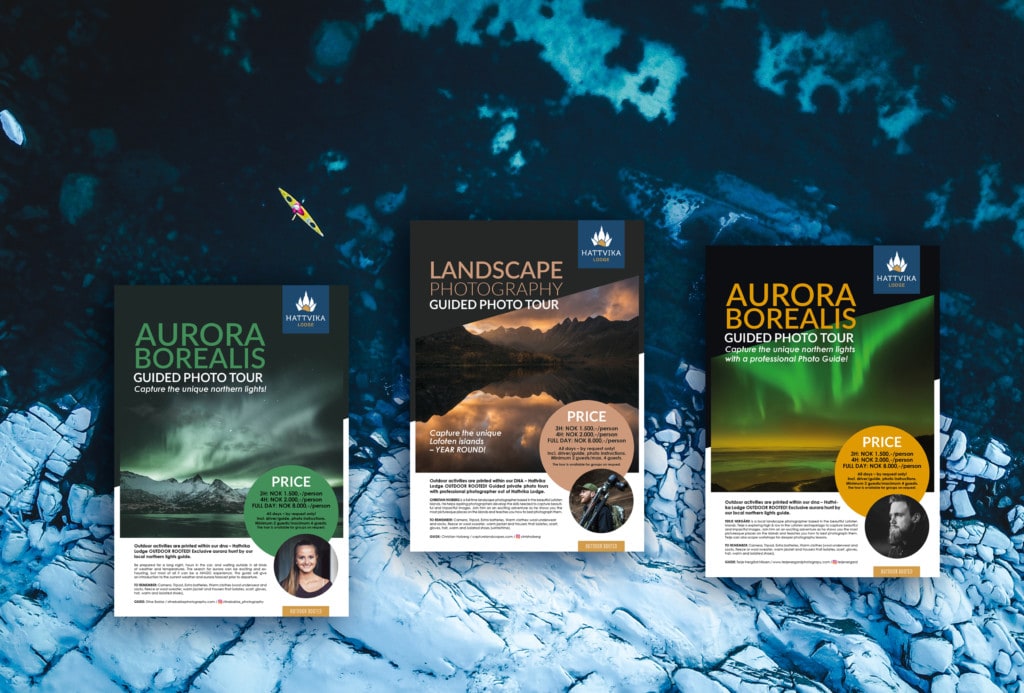 Stine is locally based in the Lofoten islands since 2016 after her move to the Lofoten islands from Oslo. Her profession is nurse, but the dedication to photography have transferred more and more workload into the outdoors (and a good amount of processing time indoor). Stine have many hours roaming the archipelago for compositions/ locations and sceneries.
Out of her Instagram profile, @stinebakke_photography you can see her love for specially the far western part of the Lofoten islands. Reine and the surroundings are very often visited for captures as well as the area Haukland/ Uttakleiv at the Vestvågøy island.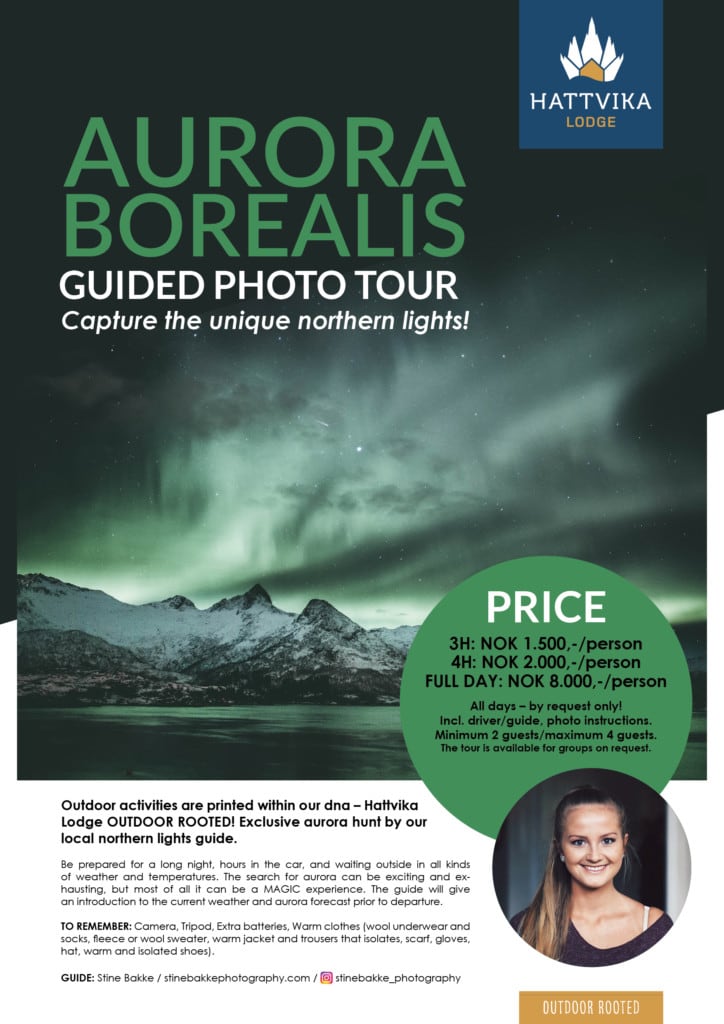 Be prepared for a long night, hours in the car, and waiting outside in all kinds of weather and temperatures. The search for Aurora can be exciting and exhausting, but most of all it can be a MAGIC experience.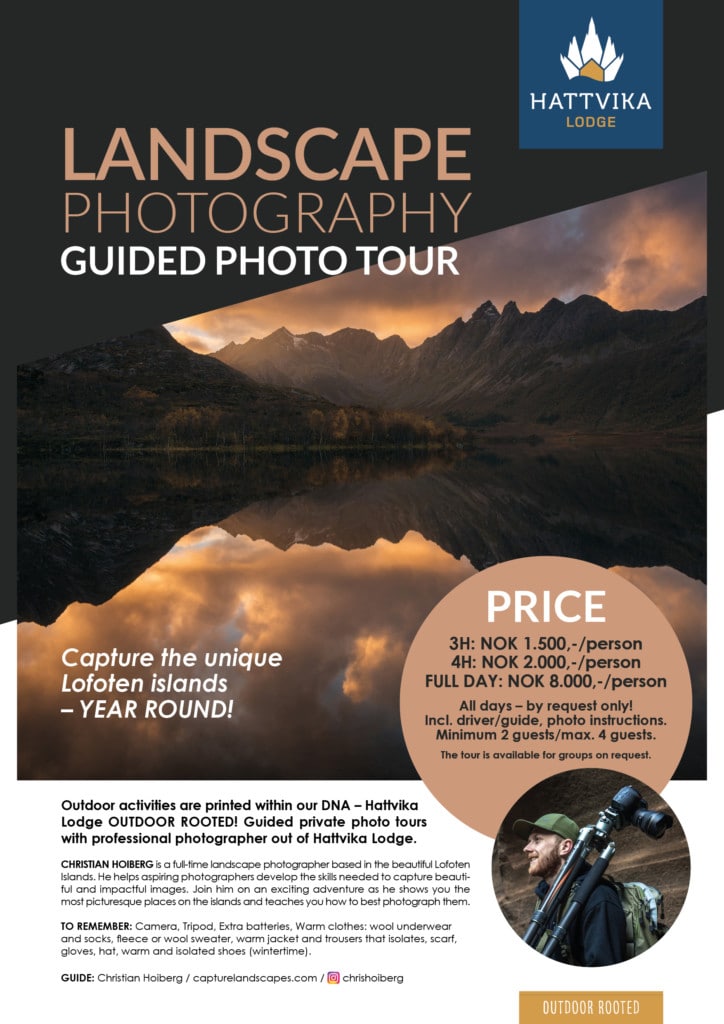 Christian Hoiberg is running his Photographer freelance business and is living in the Lofoten islands. Read more about tips for photographing up north here.
Terje Nergård is born in the northern norway and moved to the Lofoten islands 10 years back. He is working daytime, but is always available for freelance workshops to showcase his backyard and great eye for compositions together with guests out of Hattvika Lodge. Look Terje up here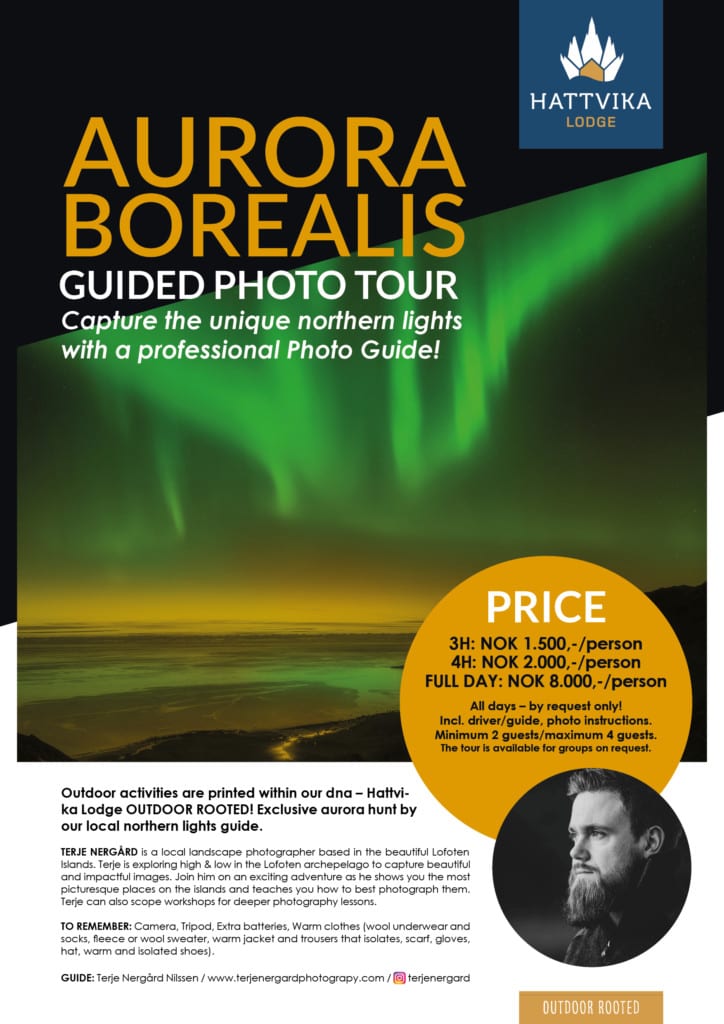 The guide will give an introduction to the current weather and aurora forecast prior to departure.

Price: starts at NOK 1.500,-/ 3 hour tour.